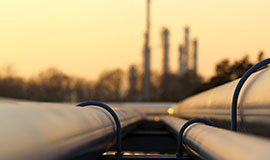 In 1986 Mr. Mohammad Othman started his petroleum distribution business. He took a loan and bought a vehicle with 6000 liters capacity. At the beginning of his work it was a one man show. He was the driver, the worker, and the manager.
He used to drive to any building and ask the genitor if there is anyone who needs diesel oil in the building.
Building after building his work grew. In 1987 and due to the Lebanese civil war he stopped working. In 1992, he restarted his work. At that time he also bought about 20 barrels and distributed them on shops that have burned oil as a waste.
He took the oil and sold it to factories.
This was a profitable transaction. He also continued his work in the diesel oil distribution sector. Then soon competition grew fiercer. At first it was hard for him to compete with the big companies, but he was smart enough to get an acceptable market share. His work continued to blossom until 2000. At this stage he needed a partner to share with him the financial and managerial burdens of the company. Thus Mr. Jamal Othman was admitted as a partner in the company.
This partnership had given the company a lot of strength, because they were now able to compete fiercely with the big companies in the diesel oil distribution sector. The company continued to grow until today where it is considered one of the most powerful companies in the North and many other parts of Lebanon. Now OJM's name, with 24 vehicles and about 35 employees, is becoming an equivalent to a success story.
Philosophy
We remain, responsible to our clients and uniquely dedicated to helping them make a better life time and being the most reliable company & the fastest in delivery with more than 24 vehicles with many different capacities. We aim to a respectful relationship with our customers.
OJM combine the highest services with local expertise.
The company takes the time to evaluate the client's needs and to assure a professional performance.
Our people want to be part of each client's success.
OJM understand that our future as a firm is ultimately linked to the success of our clients.
Experience
Since we are in market for more than 23 years and dealing with more than 500' clients. Our team is reliable in providing a service that will ensure customer satisfaction
Vision
To regain leadership in the Lebanese oil distribution by continuously improving performance, efficiency, effectiveness and health safety environment.
Mission
Leadership entails superiority in the following:
Workforce.
Profitability through full utilization of assets.
Image.
Quality control.
Customer service.
Creative.
But it did a miserable job of translating this https://essays-service.net/ research into consumer products, or indeed any products, except possibly weapons